Welcome to the USNA Hudson Valley Parents Group
On behalf of the USNA Alumni Association & Foundation, we would like to invite you to join our local parent group, the USNA Hudson Valley Parents Group.  We are a non-profit organization comprised of parents and friends of the United States Naval Academy and individuals who support the Mission of the HVPG, Appointees, Midshipmen, Graduates of the Academy, and Blue and Gold Officers. Our goal is to support the Brigade of Midshipmen through social events and activities for its members.  Additionally, we provide information to prospective plebes, NAPS students, and their parents/guardians.
Follow Us on our Facebook page for more information.
If you have not become a member – Join Today!
Important and new as of 2016/2017 School Year: USNA Updated Mailing Instructions
The Parent Event Calendar is a milestone school calendar with dates, times and information for the MIDS academic year-exams, leave dates and times, and training schedules. We hope this will help with planning. It is currently updated through Commissioning Week 2018: https://www.usna.com/parents-event-calendar
PRESIDENT'S MESSAGE: 
The Naval Academy is mourning the loss of one of our most distinguished graduates, Sen. John McCain, (USNA '58). His life of service to our country is a legacy that will continue to be revered.
Senator John McCain, a true American hero who served his country honorably.
Fair winds and following seas.
Sharon Maguire
HVPG President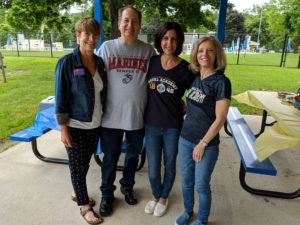 Welcome Aboard Picnic 2018
USNA NEWS:  Former Vice President Joe Biden accepted the 20th Annual U.S. Naval Academy Alumni Distinguished Graduate Award for Senator John McCain, USNA Class of 1958, on March 23, 2018. You can check out the short video here: http://www.capitalgazette.com/news/naval_academy/ac-cn-distinguished-graduate-awards-0324-story.htm
NEWSLETTER: View our most recent newsletter "Hudson Valley Scuttlebutt" here: Newsletter
 UPCOMING EVENTS  
The Parent Event Calendar is a milestone school calendar with dates, times and information for the MIDS academic year-exams, leave dates and times, and training schedules. We hope this will help with planning. It is currently updated through Commissioning Week 2018: https://www.usna.com/parents-event-calendar